ORDERING
Please enter the information requested below. Please use your tab button to go from space to space. I will in turn send you an e-mail giving you the total with postage. PLEASE MAKE SURE THAT YOU TYPE IN YOUR E-MAIL ADDRESS CORRECTLY. Due to new postal rates, postage is now calculated by zones. I will need your zip code to calculate postage. I combine postage on all multiple pattern purchases. PLEASE MAKE SURE THAT YOU WANT THE PATTERNS BEFORE YOU ORDER. THERE ARE NO RETURNS OR EXCHANGES. IF YOU HAVE QUESTIONS, FILL IN YOUR E-MAIL ADDRESS AND QUESTION IN THE BOX AT THE BOTTOM OF THE PAGE AND HIT THE SUBMIT BUTTON.
Arizona residents will be charged 6% sales tax.
I will ship internationally. Will need country to compute postage.
For E-patterns, please put the letter "E" before the pattern number. Prices are on the E-Patterns page.

- *PayPal only upon request. Add request in the box at the bottom of the order.*
PayPal option is mainly for overseas customers and for customers that do not have credit cards. This option is more expensive than any other merchant services and especially for international orders. Patterns will be shipped on receipt of payment from PayPal.
Visa, Mastercard, Discovercard, American Express and US Postal Money Orders ONLY accepted. US Funds Only!! I DO NOT take Euro Dollars.
Once you get your order total confirmation from me, to charge to your credit card if you don't feel comfortable in filling out the form below, which is secure, you can call or send the credit card number with the expiration date, three digit code from back and billing zip code in several e-mails.
Shipping days are Mondays and Thursdays, all orders are shipped upon receipt of payment via US Postal Service.
---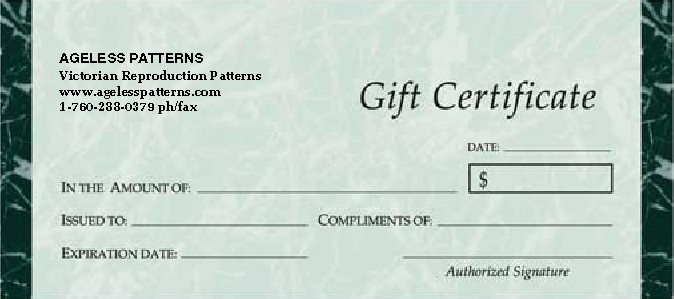 Now Available
Gift Certificates for that special person. When ordering, type in GC and the amount.
If you want the Gift Certificate to go to different name and address, kindly indicate in the additional information box below.
---
ORDER FORM

About Ageless Patterns • New Patterns • Ordering
Aprons • Baby • Bloomers/Drawers • Blouses • Bodices • Books • Boys • Bustles
Capes • Cloaks • Coats • Collars • Corset Covers • Corsets • Costumes • Dolls
Dresses • Evening Gown • Fichus • Footwear • Girls • Hats
Jackets • Mantles • Mens • Morning Wear • Mourning Clothes • Needlework
Nightwear • Overskirts • Petticoats • Purses • Reception Toilettes • Riding Habits
Skirts • Sleeves • Slips • Sportswear • Suits • Swimwear • Trims
Undergarments • Vests • Wedding Gowns • Large Sizes • Accessories
TRULY VICTORIAN • FOLKWEAR • YA TA HAI MOCCASINS
DECADES OF STYLE • BUCKAROO BOBBINS